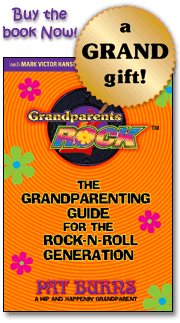 This book provides a refreshing new perspective on Grandparenting for today's fast moving, computerized, aging
baby boomers.



adds a unique twist by relating life experiences, challenges and Grandparenting advice to the music of "our generation". The chapters are named after songs from the past, and so they're likely to evoke an emotional response within the reader's heart.

Small and compact in size, this book is designed to fit into your briefcase or purse and intended to be read on an hour-plus airplane flight. Most chapters will simply be fun and make you laugh, while a couple of sections will explore pain and difficulty. Each chapter concludes with a brief overview of lessons learned, called "Grandparenting Guidelines."