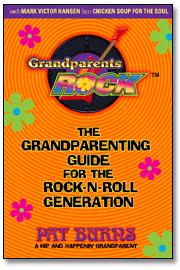 Chapter 1


"Shake, Rattle and Roll"


opens the book by sharing reactions to becoming a grandparent. See the sample chapter below.

Chapter 2


"Let It Be"


is about providing unconditional acceptance as a special gift of grandparenting.

Chapter 3


"96 Tears"


offers ideas and suggestions on how to handle crying grandchildren.

Chapter 4


"The Purple People Eaters"


speaks to the benefit of telling silly, outrageous stories. My grandson prefers my made-up stories to anything I read to him. The more outlandish, the better he likes them.

Chapter 5


"Bye Bye Love"


tackles the difficult subject of parents splitting up, and the delicate task of staying neutral for the sake of your grandchild.

Chapter 6


"Easier Said Than Done"


shows how to bond when you don't live just down the street. Long-distance relationships are more common with today's very mobile younger generation. Scheduling trips and frequent mailings and email are critical in building a meaningful grandparenting experience.

Chapter 7


"Girls Just Want To Have Fun"


recommends playing board games, building tents as forts, swimming, going to the beach, and many other fun activities to build a memorable relationship with grandkids.

Chapter 8


"Happy Together"


The line, I can't see me lovin' nobody but you says it all. Singing a fun, sweet song creates lasting memories, and this Happy Together is the best.