Pat Burns List of
Inspirational Presentations... with a twist
GENERATION 2 GENERATION

Design a Lasting Legacy - Create a Public Benefit Event

This presentation has been lighting up audience's passions! Learn the in's and out's of creating a super successful public event which changes lives, creates community, improves society and reaches all ages. You can expect a very different outcome... GUARANTEED!



BABY BOOMERS MEAN BUSINESS

Let's create a life the youth will envy. This doesn't mean playing golf all day or sitting in front of television either. In this presentation Pat gives baby boomers the fire, tools and systems to do something meaningful ... exciting ... right now! Pat's powerful message reminds boomers that we rewrote all the rules in the sixties; changing the way people thought about life. Pat says; "We did before and we need to do it again! So we're getting old ... big deal! Be wild. Be controversial... It's time to be heard again. Our voices have been silent long enough... Let's ROCK!"



Bringing Visions to Reality...
Seven Steps to Achieving Your Dreams

Experience having your dreams fulfilled no matter how wild, big or small... Pat knows and teaches the secrets to achieving your dreams.



One American Woman and 15 Vietnamese Men

Exciting, life altering experiences of a n American woman living with 15 Vietnamese men... Rated G


Your next keynote speaker...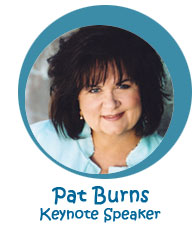 Pat Burns world is kept fulfilled by running three institutions. She is the Cofounder and Executive Director of the Orange County Children's Book Festival, founder of a massive "Hip and Cool" Grandparenting Movement, Author of Grandparents Rock? A Grandparenting Guide For The Rock-n-Roll Generation and she travels the world (literally) teaching success strategies to entrepreneurs and general audiences that want more from life.

Her impressive list of elite clients comes from around the globe. Her marketing savvy has resulted in working contracts with such major corporations as...
Time Warner
Radio Disney
PBS
Chicken Soup for Soul
Enlightened Millionaire Institute
state governmental agencies
national associations
hundreds of real estate companies such as Century 21 International
Coldwell Banker
The International Trading Corporation in Vietnam and Thailand
Invite Pat Burns to appear at your next event!
E-mail Pat at: pat@grandparentsrock.com
or call 949-836-4722